Ukrainian fighters spent weeks trying to defend the city and prevent it from falling into the hands of Russia, as did neighboring Severodonetsk a week earlier. The Russian Defense Ministry said its forces had taken control of an oil refinery on the outskirts of Lyschansk in recent days, but Luhansk Governor Serhiy Heidi said on Friday that the fight for the facility was continuing.
"During the last day, the occupiers opened fire from all kinds of weapons available," Hayday said Saturday on the messaging app Telegram.
Luhansk and neighboring Donetsk are the two provinces that make up the Donbass region, where Russia has focused its offensive since its withdrawal from northern Ukraine and the capital, Kyiv, in the spring.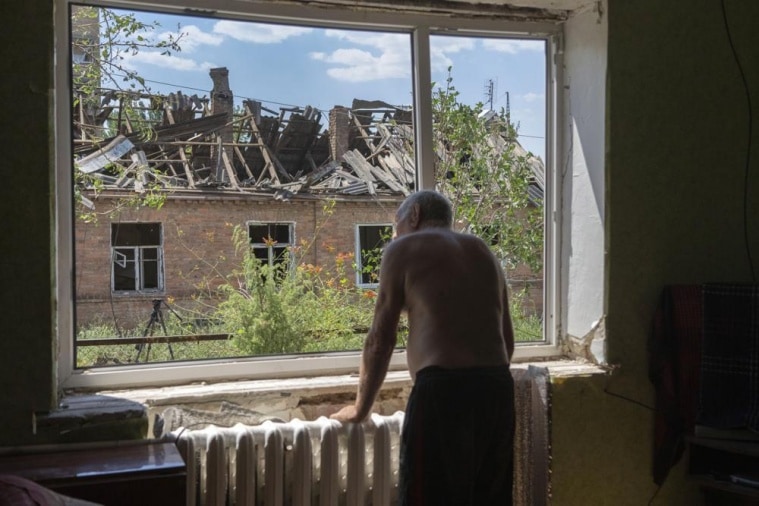 Viktor Rosenberg, 81, looks out of a broken window at his home destroyed by a Russian missile attack in downtown Bakhmut, Donetsk region, Ukraine, Friday, July 1, 2022 (AP Photo/Efrem Lukatsky)
Pro-Russian separatists have controlled parts of both provinces since 2014, and Moscow recognizes both Luhansk and Donetsk as sovereign republics. The Syrian government said on Wednesday that it would also recognize the "independence and sovereignty" of the two regions and work to establish diplomatic relations with the separatists.
Mayor Vadim Lyakh said on Facebook that four people were killed in Sloviansk, a major Donetsk city still under Ukrainian control, when Russian forces fired cluster munitions late Friday. He said that the neighborhoods that were bombed did not contain any potential military targets.
Elsewhere, investigators combed through debris from a Russian air strike early Friday on residential areas near the Ukrainian port of Odessa that killed 21 people.
Ukrainian Prosecutor General Irina Venediktova said investigators were extracting shrapnel from missiles that hit an apartment building in the small coastal town of Serhivka. She added that they also took measurements to determine the trajectory of the weapons.
"We are taking all necessary investigative measures to identify the specific persons guilty of this horrific war crime," Venediktova said.
Ukrainian President Volodymyr Zelensky holds a press conference with Norwegian Prime Minister Jonas Gahr Store in Kyiv, Ukraine, Friday, July 1, 2022 (AP Photo/Nariman El-Mofty)
Ukrainian President Volodymyr Zelensky said three anti-ship missiles hit "an ordinary apartment building, a nine-storey building" housing about 160 people. He said that among the victims of Friday's attack were four members of a family living in a "model" camp on the seashore.
"I stress that this is direct, deliberate Russian terrorism, and not a mistake or an accidental missile strike," Zelensky said.
The British Ministry of Defense said on Saturday that air-launched anti-ship missiles generally do not have high accuracy against ground targets. She said Russia was likely using such missiles due to a lack of more accurate weapons.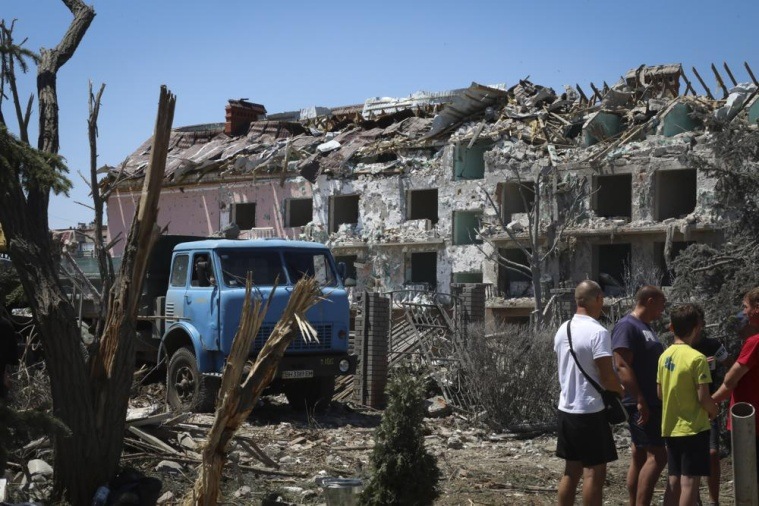 Locals stand next to a destroyed apartment building in the town of Serhivka, located about 50 kilometers (31 miles) southwest of Odessa, Ukraine, July 1, 2022 (AP Photo/Nina Lyashonok, File)
The Kremlin has repeatedly claimed that the Russian military is targeting fuel storage sites and military facilities, not residential areas, although recently the missiles hit an apartment building in Kyiv and a shopping mall in the central city of Kremenchug.
Kremenchug Mayor Vitaly Malitsky said on Saturday that the death toll in the attack on the mall had risen to 21 and one person was still missing.
The Ukrainian authorities interpreted the missile attack in Odessa as retaliation for the withdrawal of Russian forces from a nearby island in the Black Sea of ​​symbolic and strategic importance in the war that began with the Russian invasion of Ukraine on February 24.
Moscow portrayed their departure from Snake Island as a "goodwill gesture" to help liberalize grain exports.