Payal Rohatgi and Sangram Singh are set to tie the knot on July 9 and it appears that the couple's pre-wedding festivities have already begun. Pictures from Rohatgi's mehndi found their way onto social media platforms on Wednesday.
Glowing in a pink outfit, Rohatgi wore mehndi on her hands and feet in a mehndi function.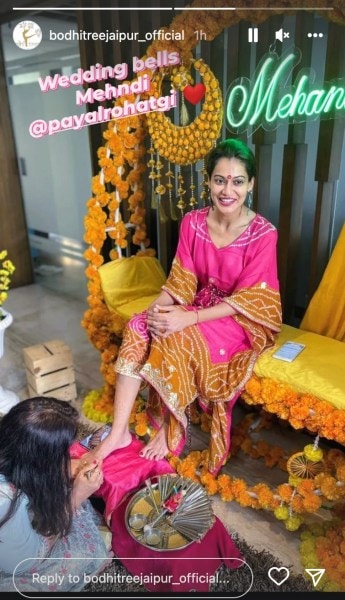 Payal Rohatgi in her post Mehndi. (Photo: Bodhitree Jaipur / Instagram)
Payal Rohatgi and Sangram Singh's wedding will take place in Agra. Rohatgi had earlier revealed that the wedding would be a family affair with only a few guests in attendance. The couple will host a reception in Delhi on July 14 and another in Mumbai at a later time.
Rohatgi and Singh, who have been together for a decade, announced that they were planning to finally tie the knot during the finale of the reality show Lock Upp, of which Rohatgi was one of the finalists.
During the show, Sangram Singh said, "Yeh Lock Upp kar lo fir hum shaadi karenge (I finished this show, we will get married then), "When Payal Rohatgi asked him if he was sure, Singh said,Aitni Dakkad, Etni Qawi, Etni independent or Aitni Mazboot Ladki Ko Bhaiya Main Shodna Nahi Tishta. The main eski sath puri zindagi lock in hona chahta hun. (I would never want to leave such a strong, independent girl. I want to be with her forever.)"
In a previous conversation with The Times of India, Sangram Singh revealed that they had been planning to marry twice, but both times the wedding had to be postponed due to a family tragedy. "I always knew I wouldn't have a partner like Payal and it was only a matter of time before we got married," he said.