In the 2008 film Iron Man – the movie that launched the Marvel Cinematic Universe (MCU) – there is a scene where Robert Downey Jr's character, Tony Stark, is kidnapped by a shadowy-looking terrorist group in the Middle East as they take a video hostage. In the scene, the main terrorist Raza performed by Pakistani-American actor Fran Taher threatens the camera in Urdu. As he does this, the English subtitles at the bottom of the screen completely contradict what he says, and on top of all that, the movie refers to the spoken language with the word "Arabic." I vividly remember bursting into laughter during that scene with a crowded multiplex audience in Bangalore, most of whom of course understood Urdu due to its proximity to Hindi. Obviously, linguistic accuracy and acting weren't the studio's top priority at the time.
Fourteen years later, as I sat with a wide grin on my face watching the first episode of Mrs. Marvel, the same studio's web series with a Pakistani Muslim teen driving me in, I couldn't help but wonder (pun totally intentional) how much things had changed.
For me, this show is resistant to criticism. I've unabashedly adored the character Kamala Khan (who later became the feisty superhero Ms. Marvel) ever since it was created by writer J Willow Wilson and artists Adrienne Alfona and Jimmy McKelvey in the pages of a comic book in 2013. Comic book editor Sana Amanat has also played a big role. In seeing Kamala come alive, she is a Pakistani-American. Amanat also serves as executive producer on the show.
The best of Express Premium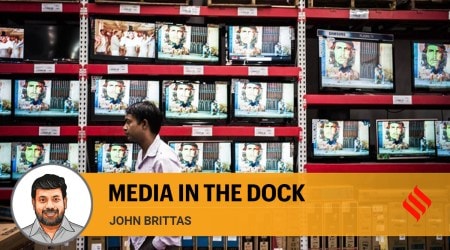 Acting only matters when it's real. Although there have been sporadic batches of South Asian representation in Hollywood films and TV shows in the past, much of it has struggled with seeing it through the lens of Western, mostly white directors, and creative teams. These stories and descriptions have rarely crossed the 'exotic' label associated with Indian/Pakistani clothing and jewellery, and have crumbled under a patchwork of clichés.
Then there is, of course, the bad subject of portraying Muslims and Islam in Hollywood and in pop culture in general. One only needs to turn back the clock a little over a decade to see examples from TV shows like 24 and Homeland and movies like American Sniper that almost built their identity around the harmful stereotype of the "cold-blooded Islamic terrorist," sometimes going so far as to suggest that Even ordinary Muslims with their families have been brainwashed into believing an extremist ideology.
That's why I filled my heart with joy to see Ms. Marvel, colourful, lively, funny and positive. Iman Fellaini, who plays the titular Kamala, is a star in the making. Her face and personality are the kind that light up a room. The first episode is a simple story of Kamala trying to convince her parents to let her attend the "Avenger Con" superhero convention, dressed as her favorite superhero, Captain Marvel. Her mother thinks that superhero costumes are too scanty and will lead her to do "taboo" activities. Throw a mysterious amulet inherited from Nani Kamala, some high school tricks and you'll have an amazing adventure in the making. In an age when superheroes are getting darker and sadder, the show doesn't shy away from its comic book roots. The New Jersey drawings on the walls appear alive, as do the sketches and drawings in the students' notebooks. Peppy soundtrack and honest emotions. The inner world of Kamala's home and family feels "lived".
A show like this also gives us a chance to see some glowing performances by talent. Zenobia Shroff is the perfect, lovable and ruthless mum, Mohan Kapoor (where are my fellow '90s Saanp Seedhi fans?) who can break the stereotype of an 'angry dad' by playing the amiable dad and comedian Azhar Usman. . Charmaine Obaid Chinoy and Mira Menon occupy the director's chair and if the message boards and rumors are to be believed, Bollywood dignitaries like Fouad Khan and Farhan Akhtar could soon appear.
In 1962, Marvel comic writer Stan Lee and artist Steve Ditko create a teenage superhero who is bitten by a radioactive spider and struggles to balance a life of being a superhero while trying to please his aunt and being a high school student. That character was, of course, Spider-Man and it brought Marvel Comics into the spotlight. In 2022, I sincerely hope that young Kamala Khan will do the same to represent South Asia in film and television roles.
I would definitely like more of this mix of old Bollywood songs, gossiping aunts, tech-struggling dads and teens with hearts on their sleeves than the creepy men with kohl-lined eyes plotting the next terrorist attack on my screen. Hollywood, please take note.
Writer, podcast producer and comedian