Shelly-Ann Fraser-Pryce, Sherika Jackson and Elaine Thompson-Hera, after their clean Jamaicans in the 100m, qualified for the world's 200m final on Tuesday, but it wasn't all easy going in an astonishingly quick triple of the semi-finals. -finals.
Jackson, who blundered horribly in qualifying at the Tokyo Olympics when she almost stopped at the goal line and crossed and was eliminated, did nothing wrong this time. It cruised clearly around the turn and got a big enough lead to gracefully ease up to 40m but it was still past 21.67 – the fastest on the night and only one time that improved this season.
Despite the experience from being a two-time gold medalist, Thompson-puzzled seemed to have taken her foot off the gas in the last few metres, and she was almost lethal.
American Tamara Clark and British champion Dina Asher-Smith fell behind her – a 200-second difference between the three – but 21.97 for Thompson Hera was enough to send her into the final as one of the quickest losers.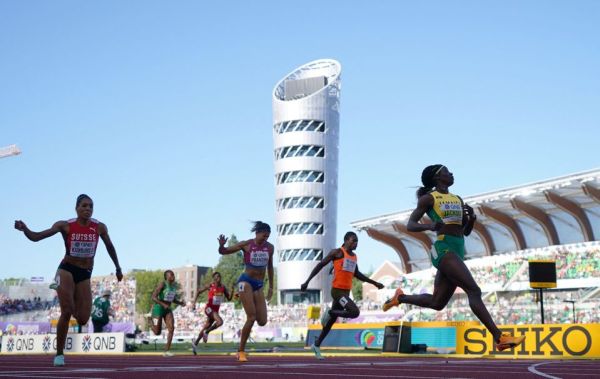 Sherica Jackson of Jamaica crosses the line first during the women's 200m semi-final REUTERS/Paul Kupchinsky
Fraser-Price, who claimed her fifth gold in the 100m on Sunday, made a stunning start to assert her authority on the third heat, slipping to finish in 21.82 ahead of American Abby Steiner – the second-fastest in the world this year but had to work. It's hard to stay on the Jamaican slope.
Such was the standard in the semi-finals that four women, led by American Gina Brandini with a score of 22.08, failed to make the showdown on Thursday despite running times that would have qualified for each previous final.