The team discovered that the unauthorised connection by the dera situated in Bhikhiwind of Tarn Taran district was being used to run 17 air conditioners, seven geysers, four motors, 196 lights and 87 fans.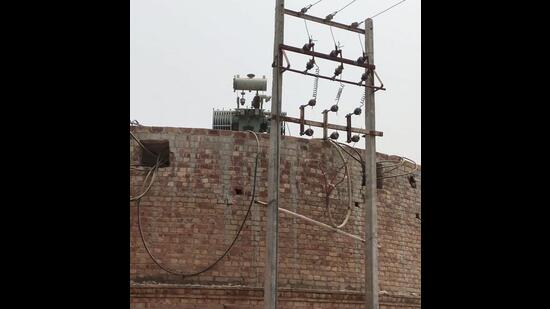 Published on May 13, 2022 01:15 AM IST
A dera situated in Bhikhiwind of Tarn Taran district has been slapped with ₹26 lakh fine after the enforcement wing of the Punjab State Power Corporation Limited (PSPCL) found it to be indulging in electricity theft. The team had found that a 300 KVA transformer was directly connected to high-tension wires at the site. The team further discovered that the unauthorised connection was being used to run 17 air conditioners, seven geysers, four motors, 196 lights and 87 fans. The power theft by the dera accounted for 50% of the total power supplied to the area.
Sub-division officer Sur Singh said an FIR has been registered at the anti-power theft police station, Verka Amritsar, to take action against the consumer as per law.

Close Story
VB arrest Haryana public prosecutor in Hisar court

The Haryana vigilance bureau on Thursday have arrested district attorney (DA) Mahender Pal, posted at district Hisar court, red-handed while allegedly accepting a bribe of ₹2,500 from an assistant sub-inspector (ASI) of the Haryana Police. A VB spokesperson said complainant ASI Subhash Chander had approached the VB after the public prosecutor had allegedly sought money in lieu of forwarding challan in the trial court.

Seven get life imprisonment, six 14-year jail in Panipat

Seven people, including gangster Prasanna alias Lambu, were awarded life imprisonment, six were jailed for 14 years and two were awarded imprisonment of two years by the Panipat district court convicting them in a murder and attempt to murder case involving a liquor contractor in Noorwala of Panipat district in December 2020.

Haryana govt revokes decision to grant loans to state universities, to allot grant-aid

After facing a week-long protest from students, teachers and Opposition leaders for cutting off grant to state universities for 2022-23 financial year and approving a loan of ₹147.75 crore as the first instalment for the universities, the BJP-JJP government in Haryana has revoked its decision and the same amount will be provided to varsities as a grant-aid.

Gender test racket busted in Kurukshetra, two women held

A pre-natal sex determination racket was busted in Kurukshetra with the arrest of two women. Police said the accused have been identified as Sukhwinder Kaur, of Jhansa village, and Babtia Rani, of Ajrana Kalan village in Kurukshetra district. Additional superintendent of police, Kurukshetra Karan Goel said officials from the district health department got information that a racket is involved in pre-birth sex determination.

Dowry harassment: Woman force-fed poison, husband among 5 booked in Ludhiana

Five days after a woman was force-fed a poisonous substance for not accepting their dowry demand, police booked The victim, Chandani, 24's husband and four in-laws on Thursday. The accused are Kesar Rehman of Meharban, his sister Afsana, brother Faizal Rehman, relatives Gulab Shah and Mohammad Amir. The victim, Chandani, 24, said that her husband and in-laws had been demanding dowry from her parents. She was referred to Post Graduate Institute of Medical Education and Research, Chandigarh.