Flying kites, throwing kites and running with balloons – Childhood memories quickly flash back after seeing the artwork installed at Ramchandra Bhatt Marg in Mumbai's Dongri district at a four-arm junction known as Laxmibai Tukaram Mali Chowk. In honor of the late social worker Laxmibai Mali, the artwork was created and opened in November 2021.
Chef Sena Sonam Jamsutkar and her husband Manoj, a former Sina company, decided to install artwork in their booth in Mali's memory. "Everyone in the area knows Laxmibai Mali. She is known for the work she has done for the community due to the naming of Chowk after her," said Manoj.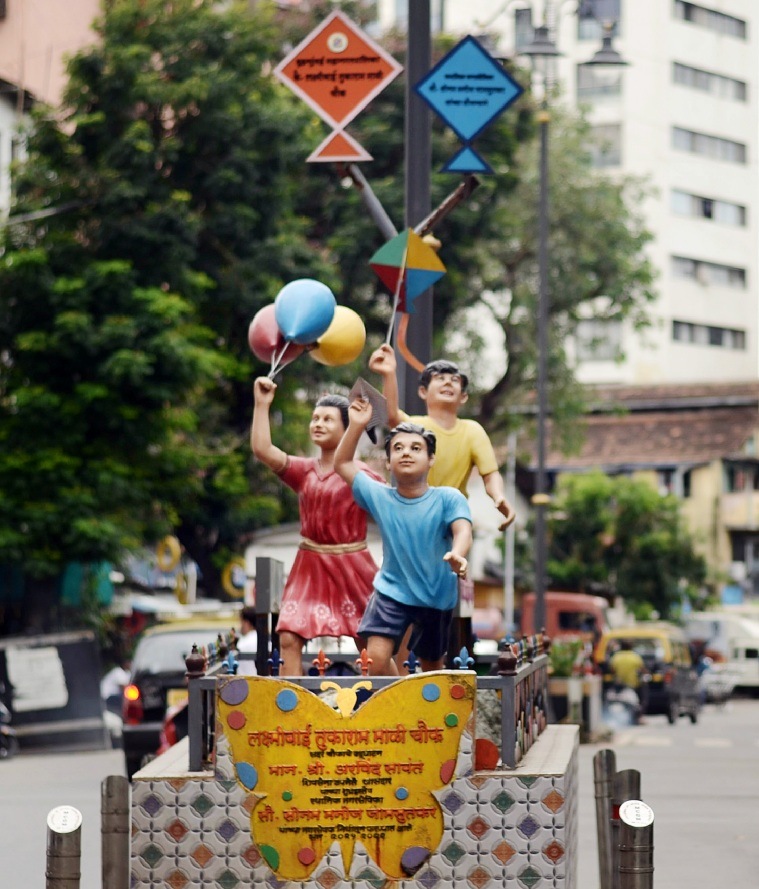 "The artwork brings back memories," said Ahmed Sheikh, a resident. (Quick photo by Amit Kumar Das)
Since Mali especially loved children, local leaders and her son Ranjan decided to name a children's artwork after her. "She loved children, so instead of getting her figurine, we decided to create something that showed off what she loved," Manoj said. "It also reminds us of the way we spent our childhood," he added.
The late political leader Syed Ahmed named Chowk Mali in 2006.
"Earlier, the intersection did not have a specific name. So everyone called the intersection as Nur Baog Naka as there is a hall called Nur Baoj Naka nearby. However, after Ahmed's recommendation, the chowk was named after my mother," Mali Ranjan's son said.
He added that the authorities had just put up a plaque that read "Laxmibai Tukaram Mali Chowk". "Apart from that, there was nothing. However, since these sculptures were created in the center of the intersection, the locals stopped there and read the name Chuck," Ranjan said, adding that many even click selfies with the artwork.
The artwork shows two boys running with kites and kites and a girl playing with balloons. A plaque was also placed with the message "Bachpan ke din bhula na dena (Don't forget those childhood days)".
Manoj said, "MP Arvind Sawant inaugurated the artwork on November 2, 2021. There was no message about it at the time of opening, but after seeing the artwork, Sawant gave the logo and then we put plaques around it."
"Today, we hardly see any boy or girl playing with kite, balloon or kite with which we can relive our childhood. In this regard, they don't go outside to play, they are only connected to mobile phones," said Ahmed Sheikh, a resident. So the artwork brings back memories."
Manoj said it was a beautification project brought up by Chef Sena leader Aditya Thackeray and added that Rs 3-4 lakh was spent on creating the artwork, using money from the company's fund.